Darrell Black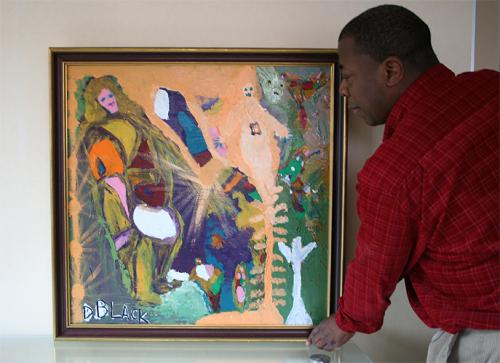 Artist: Darrell Black, in his Art studio Frankfurt, Germany
© 2017 Darrell Black
Viewer -- change the resolution or background color.



Biography

DARRELL U. BLACK (b. 1964)
Baumert Strasse 77
60386 Frankfurt, Germany
definism@googlemail.com
http://www.google.com/profiles/definism

Born March 25,1964 Brooklyn NEW YORK, My name is Darrell Black, an American visual artist living in Frankfurt, Germany. I work in a variety of formats that include Paintings on canvas,wood and wall hanging sculpture called definism.

My images portray various differences in human nature,from life's everyday dramas to humankind's quest to under-standing self. The artworks transport viewers from the doldrums of their daily reality,to a visual interpretation of another reality.





Studios of Darrell Black
View database entry